Electropherogram
easyDNA now offers you the exciting opportunity to take home your own personalised electropherogram to complement your DNA test results. Your DNA test can now include the raw data from the laboratory showing your individual DNA testing sequence.
What is an Electropherogram?
An electropherogram is a graphical representation of data received from the sequencing machine running the DNA samples. Electropherograms may be used for deriving results from:
Paternity testing
DNA sequencing
Genetic fingerprinting
Genealogical DNA testing
A DNA sequence of high quality will be characterized by sharp or high peaks, as seen in the image below. This graph is unique to the individual, and varies depending on your DNA sequence. easyDNA provides you with this original and one-of-a-kind record of your DNA profile which can be kept for years to come. We currently offer this option for Paternity and Relationship DNA Testing only.
As you will see when you click on sample image below, when you order your own electropherogram, the DNA profile for every individual tested will be shown.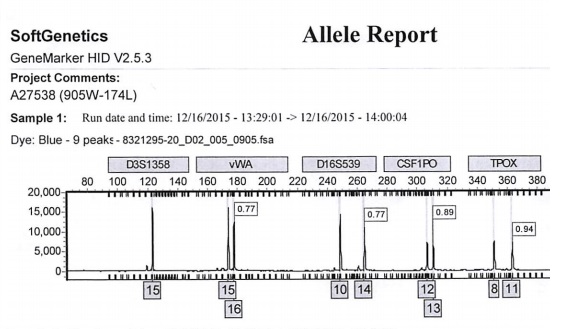 How do I Order my Electropherogram?
When purchasing your DNA Test, you will have the option to order your own electropherogram. Once you have selected the DNA Test you require and have proceeded to the order page, one of the sections that must be completed is in reference to the electropherogram. By choosing this option an additional charge will be added to your final price. The order is automatically registered into our system and your request will be recorded. By ordering an electropherogram the DNA Sequence will be provided for each person participating in the test.
How Much will it Cost me?
The cost of your personal electropherogram is KShXX.00 per test result. This includes an optional hard copy sent to the address provided at the time of order.
How will I Receive my Electropherogram?
The electropherogram will be sent as an email attachment along with your DNA Test Results. Additionally, you can request a paper copy to be sent by post.
My DNA Test has Already been Completed; Can I Still get my Electropherogram?
If the DNA Analysis was performed by easyDNA, then you can request your electropherogram even after the test has been completed! To order your electropherogram, and if you are already an existing customer, simply send your request along with your full name and/or case reference number to info@easydnakenya.com